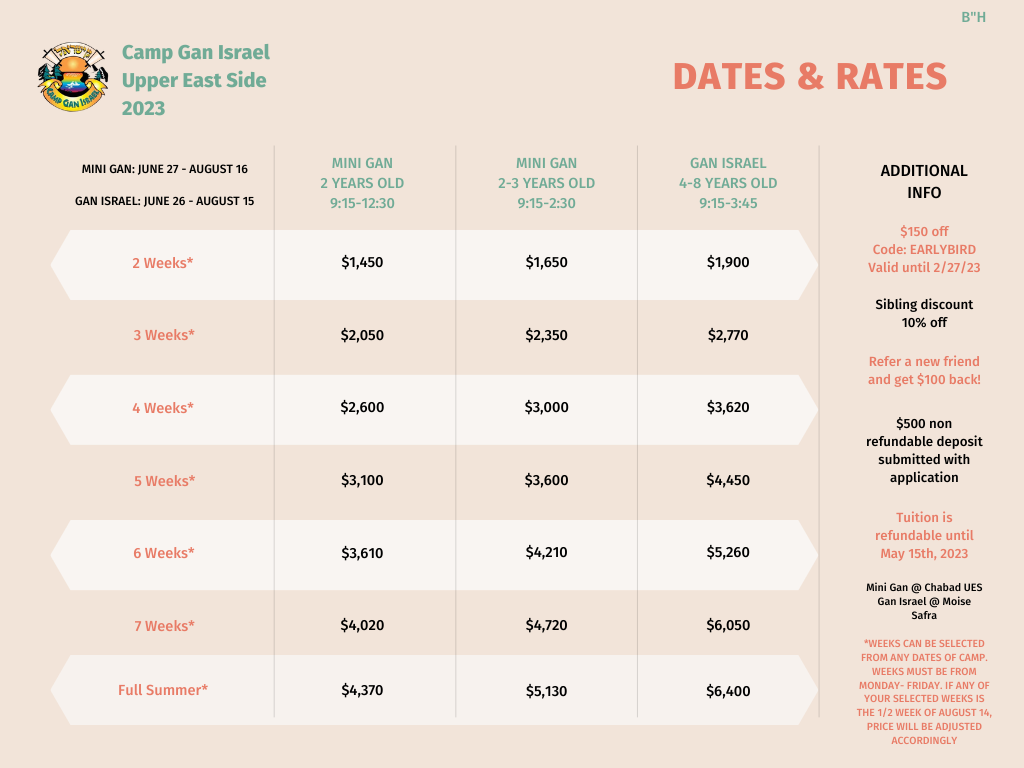 Week Selection
Weeks can be selected from any dates of camp.
Weeks must be from Monday-Friday.
If any of your selected weeks are the final partial week of August 14, price will be adjusted accordingly.
Friday Schedule
Mini Gan Israel - 9:15-1:00
Gan Israel - 9:15-1:30
After Care
Mini Gan Israel - 2:30-3:30
Gan Israel - 3:45-4:30
$15 A Day or $50 Per Week
No after care on Friday
Camp Closures
Tuesday 4th of July there will be no camp.
Thursday July 27 (Tisha Be'av) will be a half day of camp.
Swimming
There will be no swimming during the 9 days leading up to the fast of Tisha Be'av July 19-July 27. Instead we will have water activities on the rooftop during those days.
Early Bird Special
Use code EARLYBIRD for $150 off!
Valid until February 27, 2023
Sibling Discount
For each additional sibling that signs up there will be a 10% sibling discount.
Contact us directly so tuition can be adjusted accordingly
Deposit
There will be a non refundable, non transferable $500 deposit submitted with the application. Applications will not be accepted without payment. Deposit will be applied towards camp tuition.
Tuition Refunds
Tuition will be refundable until May 15th, 2023. After that there will be no refunds
Referral Rebate
Refer a friend who has never been to Camp Gan Israel before and receive $100 rebate for each family when they sign up!
Contact us directly if you have successfully referred a friend.
Financial Assistance
Fininacial assistance is available on a need basis please contact us at rabbimoishe@chabadyf.com